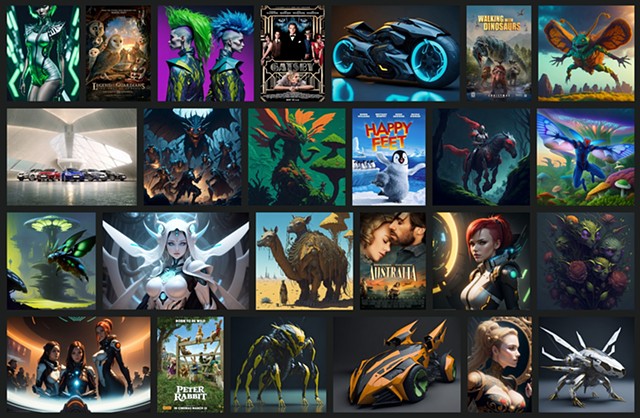 This site is the current online
CV of phil whiteley. Contact:
mobile: 0427-833-144
email:weareliquidair@yahoo.com.au.
"B" written on the wall
of liquidair
Beyond is a state of mind
I seek work in the areas of :
painting
illustration
matte painting
concept art
3d modelling
3d texturing
art direction
retouching
fine art
in no particular order
copyright respective holders
Pick the folder closest to what you require.
press 3 bar icon top left
recent highlights
2022:
sulman prize entry
2020:
archibald prize entry
david gulpilil
2019:
vfx various
2018:
heckler vfx matte painter
2017:
"Peter Rabbit" Movie
3d/2d concept artist at Animal Logic
2016:
"Peter Rabbit" Movie
3d/2d concept artist at Animal Logic
2015:to date parts
3d environment artist.
at Rotorstudios
Toyota
2014:
3d 2d lighter comper.
at Rotorstudios
Toyota
2013:
3d matte artist at Animal Logic.
Coca-Cola Snow Bear TVC.
Lego 3d movie
Promotional artwork
2012:
3d matte artist at Animal Logic.
"The Great Gatsby" 3d movie.
2011:
3d texture artist at Method studios.
Yamaha Alien TVC:
2011:
3d modeller and texture matte artist at Animal Logic,
Nike Jordan Brand: Dominate Another Day TVC.
2011:
3d 2d Concept artist at Animal Logic,
"Walking with dinosaurs 3d" Movie
2010:
3d 2d matte artist at Animal Logic,
"Legends of the Guardians Movie"
Weareliquidair the movie is now in production
a strange attractor for a strange breed.
Directors/Art Direction
Whiteley Brothers.
Far Beyond avatar lies the dream WeareliquidAir,
the movie of the 21st century.
This site contains an artistic record of the recent
digital pictures, movie mattes, concept art,
fine art collaborations of phil whiteley.
I have had the pleasure of working
with some of the best digital companies
in Australia and the UK.
*ANIMAL LOGIC, METHODSTUDIOS, FUEL VFX,
RISING SUN VFX, CREAM, SONY,*
and some fine art directors too numerous to mention.
I have worked on an oscar winning movie,
won a silver at cannes,
and done number one record album and
single covers with my friends.
Dont be offended by the paintings I am all things
to all people.I am a mirror,to the world.
The subject matter and means of expression lie
outside the commercial world.This part is limited
as seeking commercial work.
If you need to see more, emailme