david Gulpilil
david Dalaithngu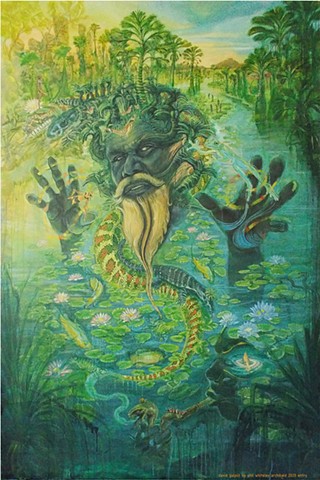 david gulpilil archibald prize 2020 entry by phil whiteley for sale best offer buyspercentage of proceeds go to david gulpilil's family
acrylic on canvas
1112 by 1680 cm
2020
david Gulpilil
"my country"
david Dalaithngu
archibald portrait prize entry 2020
moran portrait prize entry 2021
"Never forget me. While I am here,
I will never forget you.
I will still remember you,
even though I am gone forever,
I will still remember,"
highest bid buys the artwork.
percentage of sale goes to
david gulpilil's family


i only met david once in murray bridge,
to sketch him for this portrait,
considering his health he had done
me such a big favour to let me
intrude....he was actually quite quiet,
though his dialect made it hard for me
to grasp his full meaning.....
cheekily never told me his totem was a kingfisher
though i did ask...i heard of one of his dreamtime
stories the hornet and the frog so that
was what i drew, the creatures in the bg
are his painting totems snake,goannas,
bream,turtle,lilies all food i would
think of which he was in reality
an extremely skilled hunter and tracker.
though i also did bg movie mattes in the
"australia" movie
in which he appeared as st george....
he appears again as such in the picture
i think he was(RIP DAVID) australias most
powerful shamen, using his hands of power and
understated cheeky talk to weave his
magic on the audience.
he was born in the bush in the centre
of arnhem land, but was one of the
"stolen generation" removed as a
young boy to a white mission it
was there he was given the name david
and saw his rise to fame.
i wish to thank his partner mary hood
for all her help in setting up the
meeting and on the day..i am sorry
for your loss.

what follows is about the way coincidence
gives an extra push as what might be big
events in your life, and is really of only
interest to working artists
strangely the exact night before leaving
for murray bridge to see david, my unit
water heater tank split and flooded the
whole apartment during the night as
i slept, i awoke in the dark of night to
only what can be described as a biblical
flood, it destroyed 6 months work,
my best art books, furniture.
took a week to dry the unit,
and another 3 weeks of lets just say bare
debris strewn concrete, so those
who have been flooded out recently
thoughts with you.
all very minor compared
to what david was going thu at the time
i have been to arnhem land
and camped along roper river road, so know
first hand the joys of davids homeland,
the smell of the landscape, the heat,
somehow the rocks and sky seem to play
a part not noticed in the urban playset
man has built.



david gulpilil
david Dalaithngu
by phil whiteley archibald 2020 entry
david gulpilil by phil whiteley moranprize 2021 entry
#ArchibaldPrize
#ArchibaldPrize2020
#artgalleryofnsw
#david gulpilil
#david Dalaithngu
#MoranPrize
#MoranPrize2021